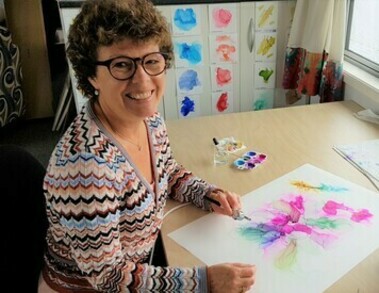 "If you could say it in words, there would be no reason to paint." – Edward Hopper
…and here I am, trying to write my profile...
Life guides you in the discovery of oneself, while I knew I had creativity within, I didn't know how to let it out until I discovered painting with alcohol inks.
I am a Napier based artiste. I started my artistic life in Belgium as a Photographer. When Photography became more digital I moved away and strated exploring other form of art and crafts. After discovering Alcohol Ink Art, I started representing my artwork at local markets, I loved chatting with people and watching how they connected with my work. This gave me confidence to pursue my creativity and continue to show and sell my alcohol ink artwork.
As Andy Warhol said "Let everyone else decide if it's good or bad, whether they love it or hate it. While they are deciding, I make even more art."
And here I am. While I make my artworks, I lose myself and find myself at the same time. I certainly lose my sense of time when I'm doing my art!
A little bit about Alcohol Ink Art:
I control the flow of the liquid ink with airbrush and air wave techniques on a non-porous surface to create a one of a kind painting. As I sell my original pieces and being a fluid form of art, I can guarantee you that each piece of art is unique. No two artworks will ever be the same! I love the way the ink starts guiding me while I am working with it. The more I work the ink, the more character it shows. The metallic inks I use add an extra dimension and light up my work. Not always that easy to see in my photos.
All my artworks are the original painting, the one that you choose and love will always be unique!
My artworks have had 2 coats with UV protector but are not varnished. Hence all my artwork (unless otherwise requested) are sold ready framed. This gives them extra protection.
Fill in your name and email to receive my newsletters and follow me on FB Limitless Abstracts or Instagram #limitlessabstract for my latest releases.
Thank you so much for visiting my website and thank you for supporting a NZ made product!
Lucie Anderson